Yesterday we our first group tutorials with David. We were asked to present visualisations of our ideas so far. This is what I presented:
IDEA 1:
I named my first idea the importance of choices. The main deliverable for this idea would be a video/short film/animation. The main aspect of this idea is that the viewer/user will have to make choices throughout the duration of the video/film/animation. This will highlight the significance of "action" and "consequence", which I think could be powerful to younger audiences. This idea is inspired by the Black Mirror film Bandersnatch, which was a "choose-your-own-adventure" film, with several different choices and possible outcomes: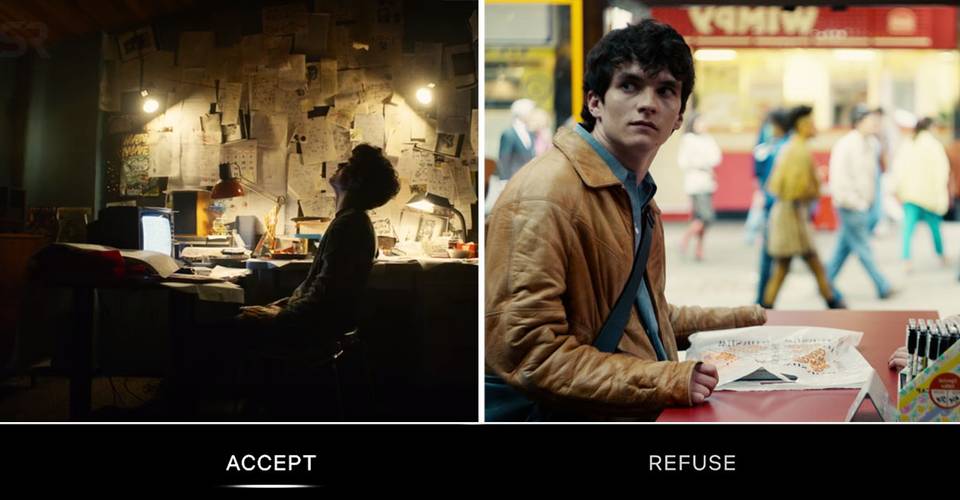 I thought that is style of outcome could be really engaging, especially for a younger audience. However, I was struggling to imply the typographic elements to this idea. I thought that I could possibly add in some strong, expressive typography frames after each decision was made. They would have to be really impactful, but I'm worried that they wouldn't be the main focus of the outcome, which could be a problem.
IDEA 2:
My second idea was to create an app which could be used as an alternative to a knife. This relates to the part of the brief which says "knife crime isn't the only option". I researched why young people carry knives, ae main reason ws for protection or self defence – they felt weak without one. So, my idea is that this app can offer the same "protection" feeling that carrying a knife would. The app could have features such as quick emergency calling, GPS tracking, alarms, warnings in high crime areas, etc.
As the main deliverable needs to be typography based, I thought that the outcome for this idea could be an advert for the app. This would allow me to use typography in a more suited manner, displaying shocking statistics, incorporating animation to the type too.
IDEA 3:
For my third idea, I thought about making a board game called "choices". The core of this idea, is similar to my first idea, but applied in a very different context. Board games can be played in schools, and could be an engaging way to teach children about the potential implications of knife crime. The cards within the game would have pieces of colourful, impactful typography, sometimes using type as image.
FEEDBACK:
After presenting all three of my ideas and sketches, my peers gave me some really valuable feedback.
Jez – Jez thought that my second idea (the app) was the strongest. He thought that the idea could be really innovative and different. However, he thought that there would have to be a LOT of very strong persuasion in order to persuade people that a phone is as powerful as a knife.
Laila – Laila thought that my first idea was the strongest, and that TikTok could be a strong platform to launch the film/animation as there is big potential to go viral on TikTok over any other platform. Young people are the core audience for TikTok at present, so it would be an ideal environment to capture their attention.
Laila thought that my idea for an app as an alternative for a knife just wouldn't work – how would a mobile phone compare to someone who pulls a knife on you? She also noted that if I was to take this idea forward, it would need some more unique features. Everything
I listed is already available on a phone, so how is it any different?
Ben – Ben thought that my second idea (the app) was my strongest idea, but again, needed improved features.
David then gave his feedback:
David thought that I should combine ideas 1 and 2 to create an "action and consequence" focused outcome. He thought that instead of creating a solution for an alternative to a knife, create a hypothetical alternative. So for example, create something that shows someone stabbing someone with a phone vs stabbing someone with a knife, and the different implications. Maybe using the phone as a metaphor for the knife?
I was really happy with the feedback and felt much clearer on which direction to take from the three ideas. I always feel really refreshed after a group tutorial, and love seeing everyone else's ideas as well as getting valuable feedback from a range of opinions on my own ideas.
My next step is to sit down and brainstorm/sketch out ideas for which direction I can take from here in terms of the "action and consequence" style approach.